November:
SURROUNDING FACE
BY WILL HARRIS AND AISHA FARR
1st – 30th November 2021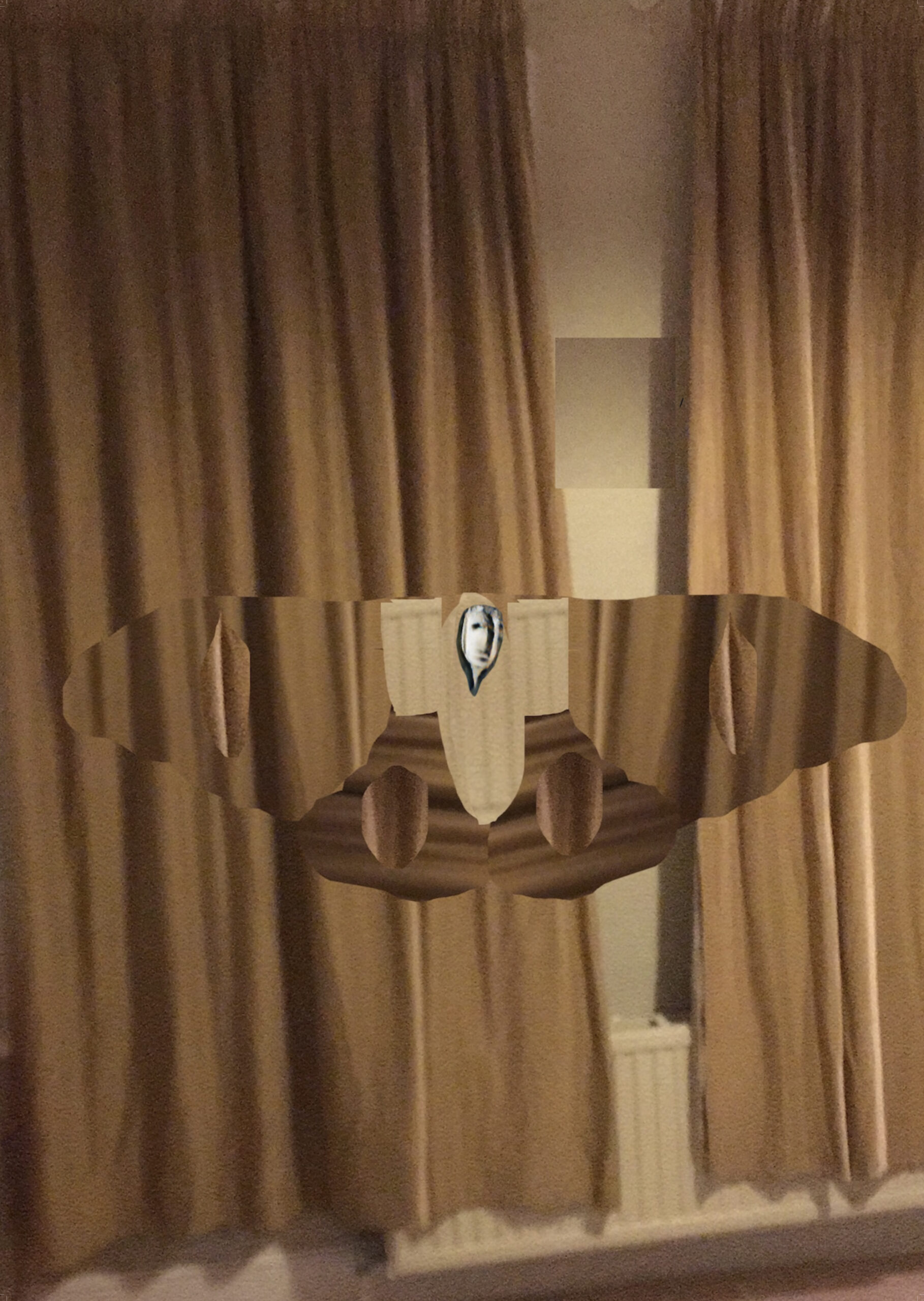 On the Western
Window Pane
'On the Western Window Pane' is a new year long fundraising project organised by the Van Gogh House, presenting 12 artist designed, limited edition posters in its front, West facing window. Will Harris and Aisha Farr have made our November Poster.
Artists and writers were invited to create posters drawing out the many-layered narratives from the building's remarkable history. Each artist has taken their own approach, from coming of age, to colour and unionism. 
About the Artists:
Will Harris and Aisha Farr
Will Harris is a London-based poet and critic. He is the author of RENDANG (2020) and Mixed-Race Superman (2018).
Aisha Farr is an artist/writer who works in adult education and community outreach in London. Some of her poetry has appeared in Zarf, Project Self Detective, Prototype 2 and with the art project plumbing wine (plumbing.wine⟶). A few of her weavings and paintings can be seen on the website  www.aishafarr.com⟶ . Aisha is currently working on a collaborative film titled Terrormar.
About the Poster:
Surrounding Face
"The idea for our poster began with Van Gogh's painting of a moth with a face on its back. In a letter to his brother, Van Gogh misidentified the moth as a 'death's head' (its distinctive skull shape made famous by Silence of the Lambs). The painting was later renamed when it was determined to have been a 'great peacock' moth. In light of that, we wanted to explore how classification can derail our perception. Aisha's work recently has involved taking images and then cutting out and rearranging aspects of them before re-incorporating them into the image itself, half camouflaged. Somewhere in the poster a small forward slash lingers to one side of a rectangular piece of the image. This piece was selected then copied and pasted from the original image, before being dragged and dropped to cover over the words 'death's head' and 'great peacock' which were typed either side of the slash. The computerised version of the photograph and the typed words are in some way immaterial but also there as notional traces of material things. There were several alternative drafts of the poster: different moths in different locations. The faces grafted onto the moth's backs were created using GAN (Generative Adversarial Networks) software, which generates images out of text. Van Gogh's work reminds us that the perception of a person can never meet the world outside of them. The way of working we found – mixing digital and photographic material instead of paint – felt like a way of explaining this quality in his work, and this complex relationship. It also chimed with our recent experiences, that of feeling embedded and sometimes lost in overfamiliar surroundings, unable to identify ourselves."
– Will Harris and Aisha Farr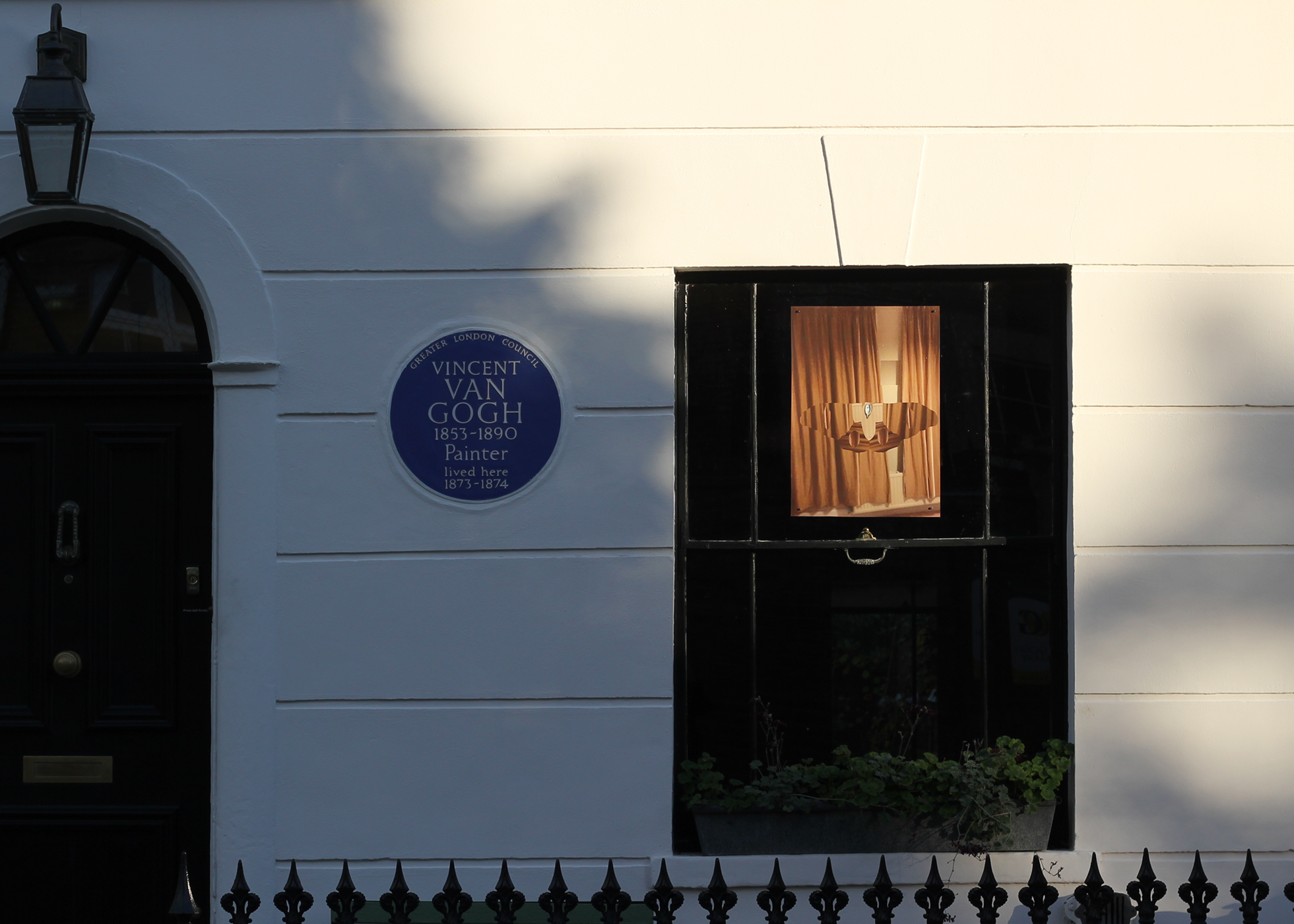 Van Gogh & Keats
A letter from Van Gogh's early days in London contained a transcription of a poem by John Keats called 'The Eve of St. Mark'. One of the verses contains the line 'on the western window panes' and continues to describe how the whole world seems to be reflected and contained in this piece of glass:
'And, on the western window panes,
The chilly sunset faintly told
Of unmatur'd green valleys cold,
Of the green thorny bloomless hedge,
Of rivers new with spring-tide sedge,
Of primroses by shelter'd rills,
And daisies on the aguish hills'
The verse captures Van Gogh House's approach to this project, seeing the building as a portal to an endlessly rich body of themes and conversations.
Further education materials around the influence of Keats on Van Gogh can be found in our Learning area, under Learning Activities
The Project
As with many other small arts organisations, the Van Gogh House was severely affected by the pandemic. By selling posters, Van Gogh House hopes to support the artists involved and use the income to fund future projects.
A new poster will be installed on the first of each month until March 2022, with 12 posters in total. We encourage everyone to place their posters in their windows, and to share  their thoughts and reflections with us.
Get Involved
What do you think about this poster? How would you have responded to Keats' poem? Would you show the poster in your window?
Take part in the conversation by:
filling out our virtual guestbook, click here
writing to our social media
or post us a letter:
87 Hackford Road,
London,
SW9 0RE
UNITED KINGDOM
Artists
Brighid Lowe, Madeleine Pledge, Lesley Sharpe, Allison Katz, Jordan & Frank Baseman, Ye Funa, Katrina Palmer, Aisha Farr & Will Harris, Rosa-Johan Uddoh, Gray Wielebinski, Tom Lovelace and Feifei Zhou.
Acknowledgements
With thanks to Benjamin Arthur Brown for curating the project, Klaudia Bebenek for her help in producing this project, Omnicolour for printing the posters, and to the artists involved.