December:
CHIMES AND CHAINS
BY GRAY WIELEBINSKI
1st – 31st December 2021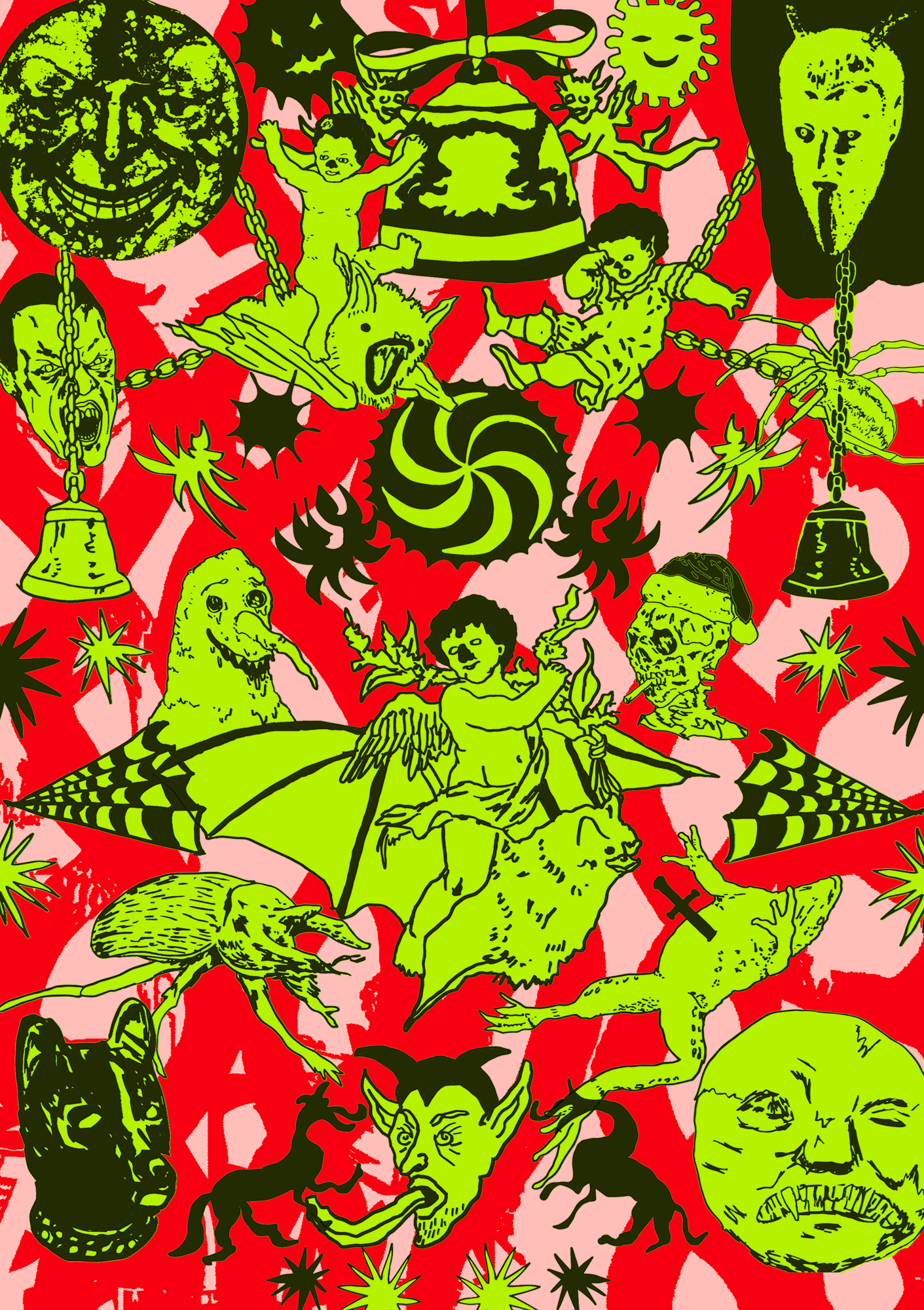 On the Western
Window Pane
'On the Western Window Pane' is a new year long fundraising project organised by the Van Gogh House, presenting 12 artist designed, limited edition posters in its front, West facing window. Gray Wielebinski has designed our December poster.
Artists and writers were invited to create posters drawing out the many-layered narratives from the building's remarkable history. Each artist has taken their own approach, from coming of age, to colour and unionism. 
About the Artist:
Gray Wielebinski
Gray Wielebinski (b. 1991 Dallas, TX, USA) lives and works in London, UK. In Wielebinski's expansive practice, incorporating video, performance, collage, installation, sculpture, and more, he explores the intersections of mythology, identity, gender, nationhood, and memory. Reconfiguring and transforming iconography and visual codes, his work seeks to navigate and question society's frameworks and belief systems. Wielebinski deftly confronts realities in order to imagine and propose alternatives.
Recent exhibitions include Oil and Water, a solo show at Hales Gallery in London, By Any Means, his first curated show at VO Curations in London, UK, Two Snakes, a solo show at 12.26 Gallery in Dallas, Texas (2020), Repurposed Textiles at Krefelder Kunstverein in Krefeld, DE (2020) and at Frieze London with Hales Gallery, London in 2020. Wielebinski's work is in the collections of Los Angeles County Museum of Art, CA, USA and San Francisco Museum of Modern Art Library & Archives, CA, USA.
About the Poster:
Chimes and Chains
"As I was doing more research into Van Gogh's time in London, I got excited about his love of Christmas. He was particularly obsessed with Dickens' Christmas stories which, like Van Gogh's work, are quite dark and weird and beautiful and funny in many ways. The Victorian period was when a lot of contemporary traditions around Christmas were created whilst at the same time being a lot weirder and more bizarre than they initially seem.
I thought it would be fun to make a Christmas themed poster with references to some of Van Gogh's own recurring imagery and interests, as well as themes from Dickens' stories and more broad Victorian ideas surrounding Christmas as well as recurring imagery and iconography I'm interested in my own work."
– Gray Wielebinski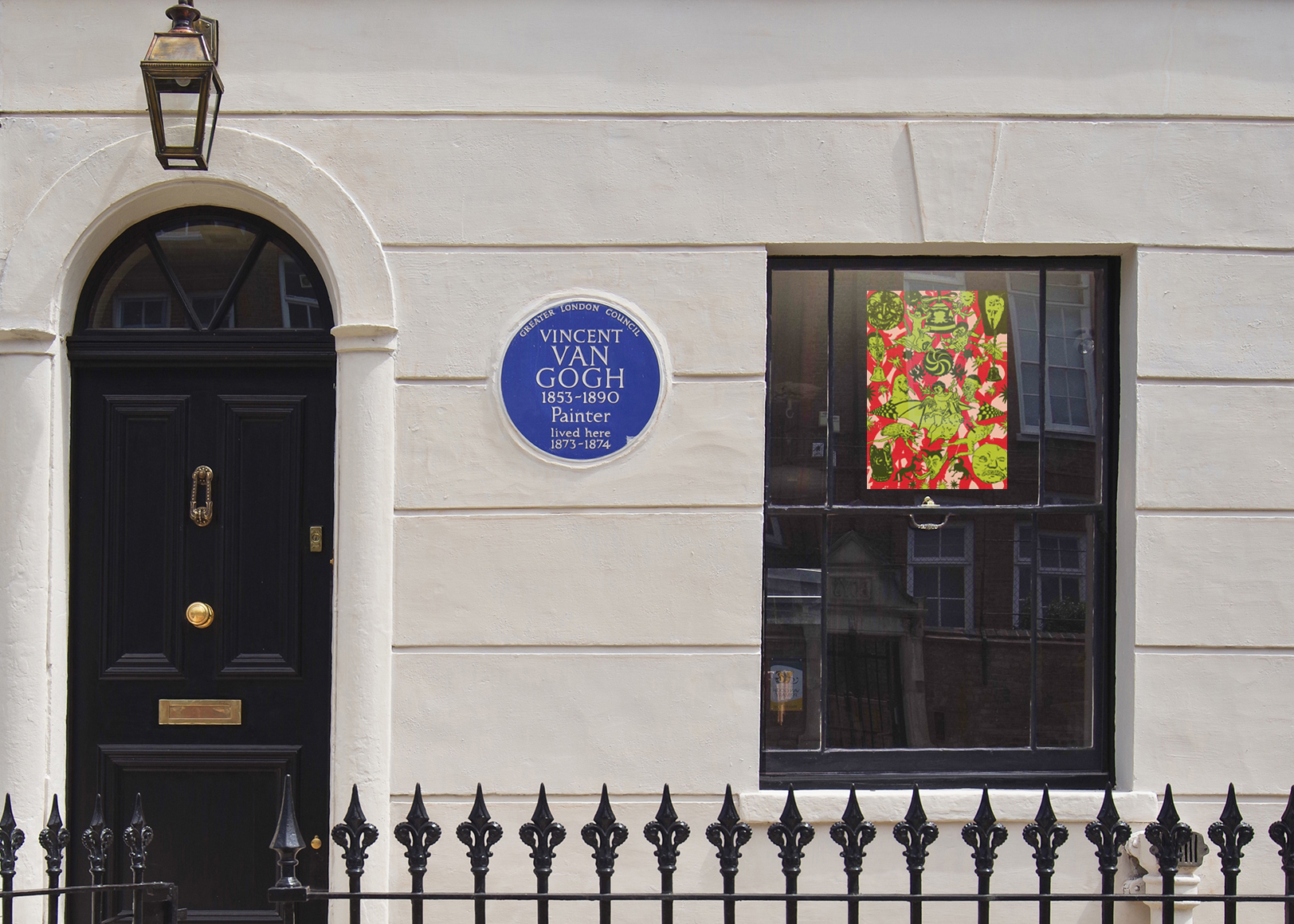 Van Gogh & Keats
A letter from Van Gogh's early days in London contained a transcription of a poem by John Keats called 'The Eve of St. Mark'. One of the verses contains the line 'on the western window panes' and continues to describe how the whole world seems to be reflected and contained in this piece of glass:
'And, on the western window panes,
The chilly sunset faintly told
Of unmatur'd green valleys cold,
Of the green thorny bloomless hedge,
Of rivers new with spring-tide sedge,
Of primroses by shelter'd rills,
And daisies on the aguish hills'
The verse captures Van Gogh House's approach to this project, seeing the building as a portal to an endlessly rich body of themes and conversations.
Further education materials around the influence of Keats on Van Gogh can be found in our Learning area, under Learning Activities
The Project
As with many other small arts organisations, the Van Gogh House was severely affected by the pandemic. By selling posters, Van Gogh House hopes to support the artists involved and use the income to fund future projects.
A new poster will be installed on the first of each month until March 2022, with 12 posters in total. We encourage everyone to place their posters in their windows, and to share  their thoughts and reflections with us.
Get Involved
What do you think about this poster? How would you have responded to Keats' poem? Would you show the poster in your window?
Take part in the conversation by:
filling out our virtual guestbook, click here
writing to our social media
or post us a letter:
87 Hackford Road,
London,
SW9 0RE
UNITED KINGDOM
Artists
Brighid Lowe, Madeleine Pledge, Lesley Sharpe, Allison Katz, Jordan & Frank Baseman, Ye Funa, Katrina Palmer, Aisha Farr & Will Harris, Rosa-Johan Uddoh, Gray Wielebinski, Tom Lovelace and Feifei Zhou.
Acknowledgements
With thanks to Benjamin Arthur Brown for curating the project, Klaudia Bebenek for her help in producing this project, Omnicolour for printing the posters, and to the artists involved.