SEPTEMBER:
AWAKE WITHOUT OBSESSION BY YE FUNA
1st – 30th September 2021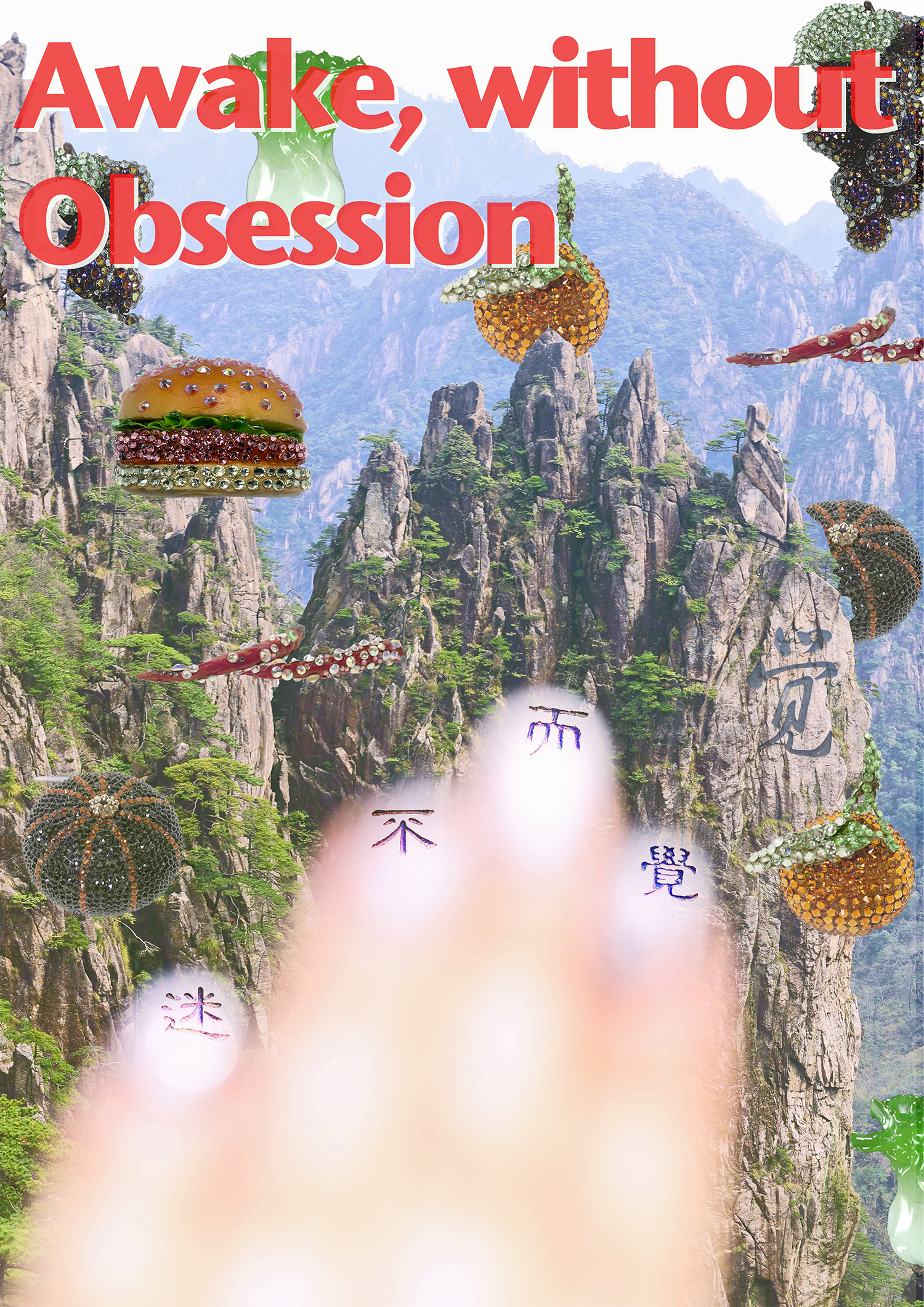 On the Western
Window Pane
'On the Western Window Pane' is a new year long fundraising project organised by the Van Gogh House, presenting 12 artist designed, limited edition posters in its front, West facing window. Brothers Jordan and Frank Baseman have made our August poster.
Artists and writers were invited to create posters drawing out the many-layered narratives from the building's remarkable history. Each artist has taken their own approach, from coming of age, to colour and unionism. 
About the Artist:
Ye Funa
Funa Ye (born 1986, in Kunming, China) works in varied media includes video, Photography, installation, performance and participation projects.
Funa's practice is mainly concerned with the relationship between the realities of everyday life, the perceived connection between authority and many areas of social life such as different power structures, ethnic groups, and the fictional space of propaganda for the concept of 'perfection' in an ideological system, and utopian landscape. Therefore, the work is politically charged, subtly engaged in pastiche as a satirizing style of propaganda. The work of Funa is rich in reference, parody and irony of the uniformity of cultures.
Recently Funa became a social activist. She is organizing some internet based participatory, crowd – sourcing projects, such as Exhibitionist: Curated Nail and Peep Stream. She is using the internet to work with people, questioning how the art system may be incorporated into our private lives and social activities. Recent exhibition include "We=Link: Ten Easy Pieces", Chronus Art Center (Shanghai); Art Center Nabi (Seoul); and Rhizome of the New Museum (New York), 2020;"Flow Out", Bilsart, 2019;"From Hand to Hand",Nottingham Cotemporary,2018 and "Alternative Cinema",Metro Pictures,2017.
About the Poster:
Awake without Obession
"I've always found it fascinating that people believe Vincent van Gogh's art was borne from pure obsession and talent, bordering passion and madness. When researching the time he spent in London and reading his letters, I noticed how very diligent and logical he was. He was working as an art dealer, tirelessly studying how the art world works. When he started painting, he was a treasure trove of knowledge, and it was this that helped him develop his method and become an artist. the process is unrestrainable, logical and it makes sense – at least more sense than creating art purely out of passion.
The focal point of my poster is the slogan 觉而不迷. Coming from the teachings of Buddhism, it says that 'understanding frees our minds from obsession' because we are awake and see things in their real light. I used my hands to cover the mountains, mimicking the landscape and showing that I am present in the moment – self aware and awake, without Obsession.
I am present in the moment – self aware and awake, without Obsession. I see Vincent van Gogh as someone being awake and without obsession."
– Ye Funa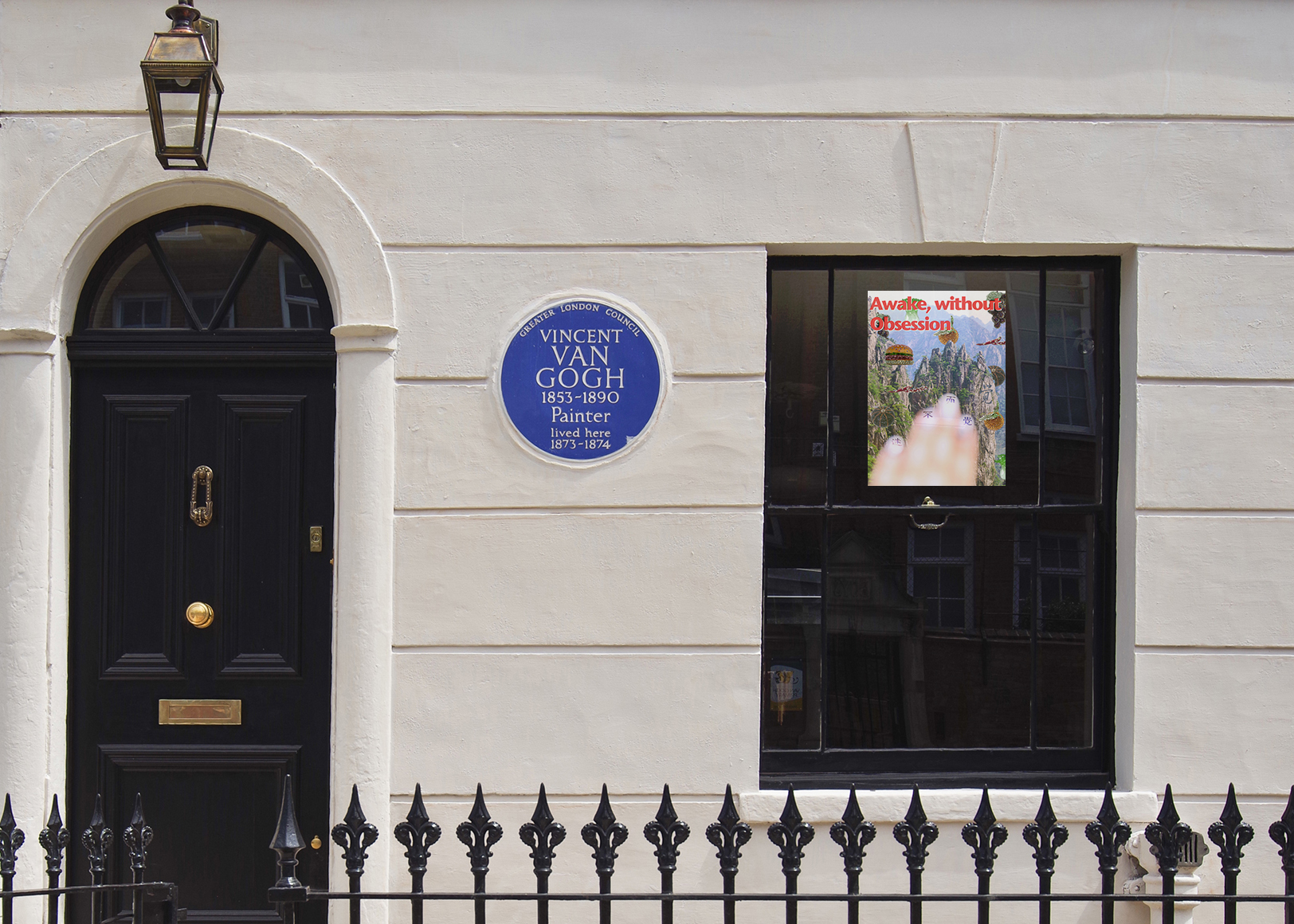 Van Gogh & Keats
A letter from Van Gogh's early days in London contained a transcription of a poem by John Keats called 'The Eve of St. Mark'. One of the verses contains the line 'on the western window panes' and continues to describe how the whole world seems to be reflected and contained in this piece of glass:
'And, on the western window panes,
The chilly sunset faintly told
Of unmatur'd green valleys cold,
Of the green thorny bloomless hedge,
Of rivers new with spring-tide sedge,
Of primroses by shelter'd rills,
And daisies on the aguish hills'
The verse captures Van Gogh House's approach to this project, seeing the building as a portal to an endlessly rich body of themes and conversations.
Further education materials around the influence of Keats on Van Gogh can be found in our Learning area, under Learning Activities
The Project
As with many other small arts organisations, the Van Gogh House was severely affected by the pandemic. By selling posters, Van Gogh House hopes to support the artists involved and use the income to fund future projects.
A new poster will be installed on the first of each month until March 2022, with 12 posters in total. We encourage everyone to place their posters in their windows, and to share  their thoughts and reflections with us.
Get Involved
What do you think about this poster? How would you have responded to Keats' poem? Would you show the poster in your window?
Take part in the conversation by:
filling out our virtual guestbook, click here
writing to our social media
or post us a letter:
87 Hackford Road,
London,
SW9 0RE
UNITED KINGDOM
Artists
Brighid Lowe, Madeleine Pledge, Lesley Sharpe, Allison Katz, Jordan & Frank Baseman, Ye Funa, Katrina Palmer, Aisha Farr & Will Harris, Rosa-Johan Uddoh, Gray Wielebinski, Tom Lovelace and Feifei Zhou.
Acknowledgements
With thanks to Benjamin Arthur Brown for curating the project, Klaudia Bebenek for her help in producing this project, Omnicolour for printing the posters, and to the artists involved.