MAY:
JOIN A UNION (BOTY/BOOTS) BY MADELEINE PLEDGE
1st – 31st May 2021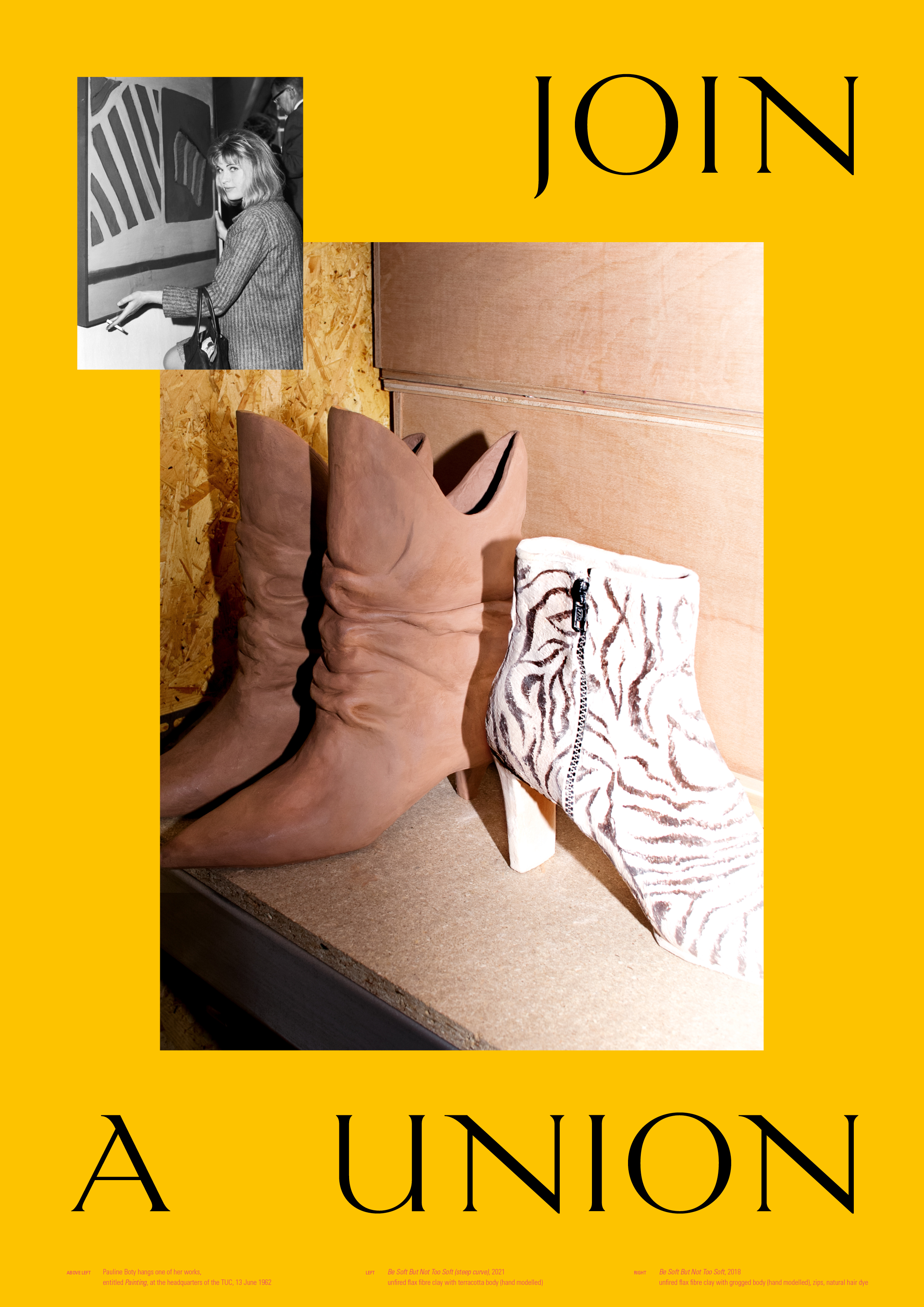 On the Western
Window Pane
'On the Western Window Pane' is a new year long fundraising project organised by the Van Gogh House, presenting 12 artist designed, limited edition posters in its front, West facing window.
Artists and writers were invited to create posters drawing out the many-layered narratives from the building's remarkable history. Each artist has taken their own approach to topics ranging from domesticity and mental health to coming-of-age and unionism.
Interview between Madeleine Pledge and Phoebe Cripps
About the Artist:
Madeleine Pledge
Madeleine Pledge, b. 1993, UK, lives and works in London. Working via replicas and remakes, she often uses the language of clothing and furniture as a way to approach bodies, subjects, objects, and power through the surfaces of fashion and design. Strategically borrowing from a lineage of existing artistic production that includes Bridget Riley, Isa Genzken, Sylvie Fleury, and Rosemarie Trockel, her work is an attempt to find and hold space between the repetitive tyranny of capitalist production and fictions of individualised authorship and artistic originality.
Recent exhibitions include Like a Sieve, Kupfer, London, 2020; Stretch, Flatland Projects, Hastings (solo); The Weather Garden: Anne Hardy curates the Arts Council Collection, Towner Eastbourne, 2019; Die Wohnung (The Dwelling), SET Project Space, London, 2018 (two person exhibition with Eva Gold), and Portrait (for a screenplay) of Beth Harmon, Tenderpixel, London, 2017.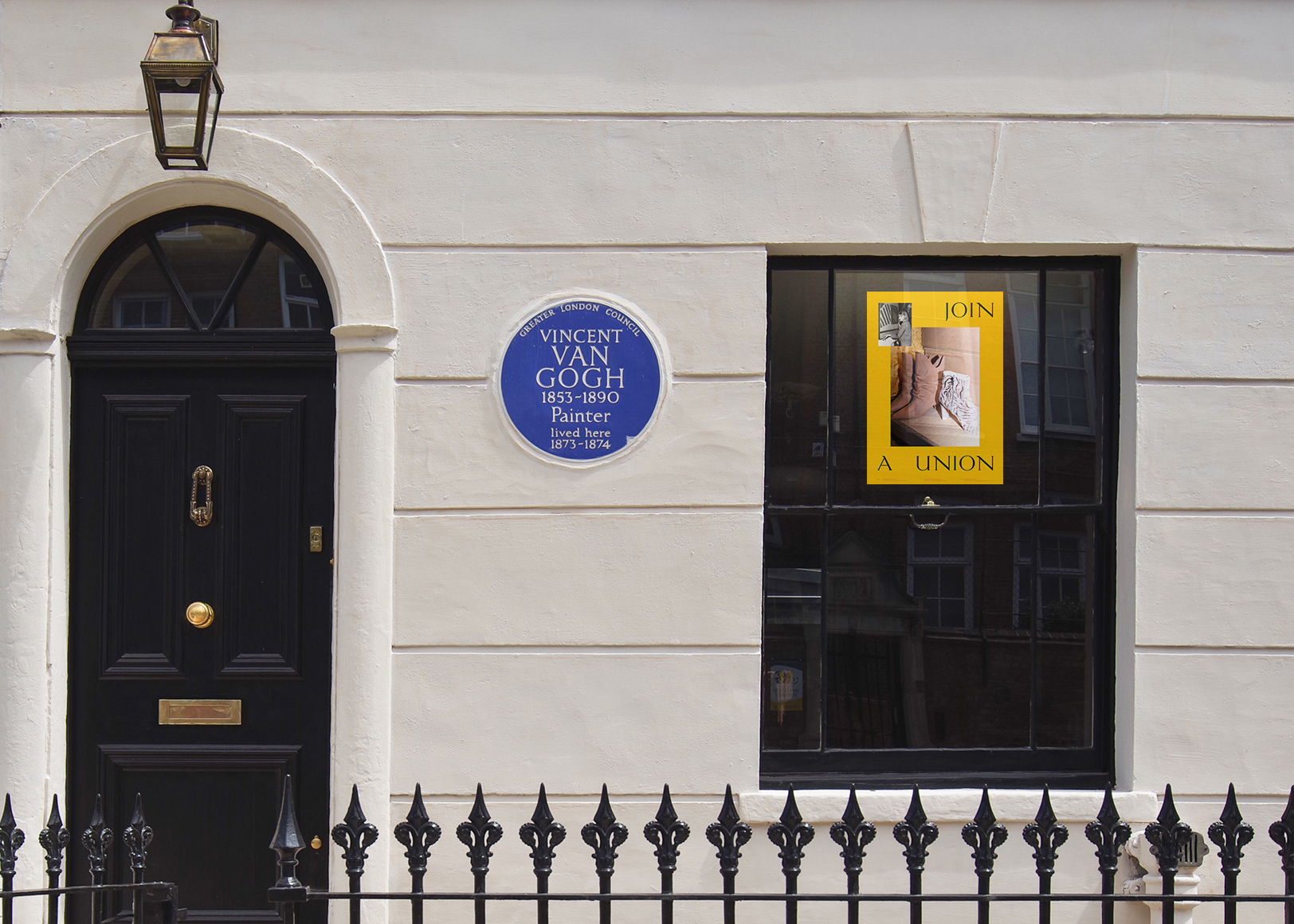 About the Poster:
Join a Union
(Boty/Boots)
"The image of the artist Pauline Boty hanging a painting at the head quarters of the Trades Union Congress has been on my mind and on the walls of my studio for the last year. I like Boty's glamorous nonchalance (cigarette in hand, handbag on arm), and her striped suit against the striped canvas. Mostly, though, I like the image for the way it positions the (supposedly isolated, individualised) figure of the artist within this context of collective action and organised labour.
"From within the atomising effects of the last year, 'Join a Union' felt like the best thing I could say within the space of an A2 page. Boty's image sits alongside a couple of pairs of unfired clay boots, positioned together in my studio while thinking about the photograph. These things are gathered together within a format re-constituted from the layouts of fashion adverts from 2020 editions of Vogue." -Madeleine Pledge
Van Gogh & Keats
A letter from Van Gogh's early days in London contained a transcription of a poem by John Keats called 'The Eve of St. Mark'. One of the verses contains the line 'on the western window panes' and continues to describe how the whole world seems to be reflected and contained in this piece of glass:
'And, on the western window panes,
The chilly sunset faintly told
Of unmatur'd green valleys cold,
Of the green thorny bloomless hedge,
Of rivers new with spring-tide sedge,
Of primroses by shelter'd rills,
And daisies on the aguish hills'
The verse captures Van Gogh House's approach to this project, seeing the building as a portal to an endlessly rich body of themes and conversations.
Further education materials around the influence of Keats on Van Gogh can be found in our Learning area, under Learning Activities
The Project
As with many other small arts organisations, the Van Gogh House was severely affected by the pandemic. By selling posters, Van Gogh House hopes to support the artists involved and use the income to fund future projects.
A new poster will be installed on the first of each month until March 2022, with 12 posters in total. We encourage everyone to place their posters in their windows, and to share  their thoughts and reflections with us.
Get Involved
What do you think about this poster? How would you have responded to Keats' poem? Would you show the poster in your window?
Take part in the conversation by:
filling out our virtual guestbook, click here
writing to our social media
or post us a letter:
87 Hackford Road,
London,
SW9 0RE
UNITED KINGDOM
Artists
Brighid Lowe, Madeleine Pledge, Lesley Sharpe, Allison Katz, Jordan & Frank Baseman, Ye Funa, Katrina Palmer, Aisha Farr & Will Harris, Rosa-Johan Uddoh, Gray Wielebinski, Tom Lovelace and Feifei Zhou.
Acknowledgements
With thanks to Benjamin Arthur Brown for curating the project, Klaudia Bebenek for her help in producing this project, Omnicolour for printing the posters, and to the artists involved.