JULY:
VAN GOGH HOUSE BY ALLISON KATZ
1st – 31st July 2021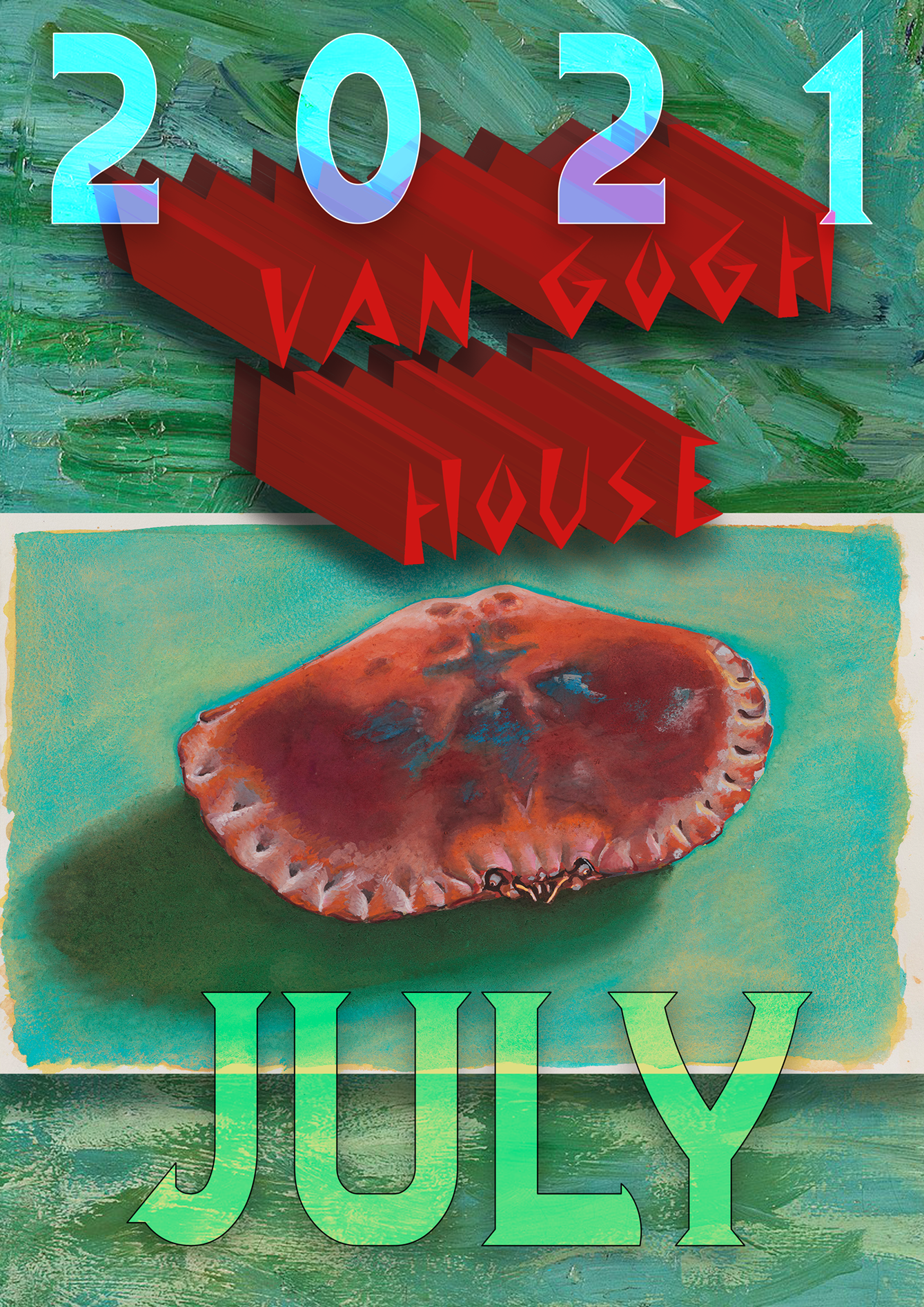 On the Western
Window Pane
'On the Western Window Pane' is a new year long fundraising project organised by the Van Gogh House, presenting 12 artist designed, limited edition posters in its front, West facing window. Allison Katz has made our July poster.
Artists and writers were invited to create posters drawing out the many-layered narratives from the building's remarkable history. Each artist has taken their own approach, from coming of age, to colour and unionism. 
About the Artist:
Allison Katz
Allison Katz was born in Montreal, Canada and currently lives and works in London. "Artery," her first solo museum exhibition in the UK, is now on view at Nottingham Contemporary until October 31, 2021 and will tour to Camden Art Center in January 2022. Additional significant institutional solo exhibitions of her work have been organized by the MIT List Center for the Arts, Cambridge, MA; Oakville Galleries, Oakville, Canada; and Kunstverein Freiburg, Freiburg, Germany. Notable group exhibitions include "The Imaginary Sea," on now at Fondation Carmignac, and an upcoming painting survey at the Hayward Gallery, opening in September; as well as previously participating in "Maskulinitäten," Bonner Kunstverein; "One If By Land," Powerlong Museum Shanghai, China; "City Prince/sess," Palais de Tokyo; "Paint, Also Known as Blood," Museum of Modern Art, Warsaw (all 2019–2020.) A comprehensive monograph on Katz's work was published by JRP|Editions, Geneva in 2020.
About the Poster:
Van Gogh House
'One of my favorite paintings in the National Gallery in Trafalgar Square is Two Crabs by Van Gogh, room 43. It is thought to have been painted soon after his release from hospital in Arles in January 1889. On 7 January he wrote to his brother Theo: 'I am going to set to work again tomorrow. I shall start by doing one or two still lifes to get used to painting again'. He was probably also inspired by a woodcut by Hokusai, Crabs, which was reproduced in the May 1888 issue of 'Le Japon Artistique', sent to Vincent by Theo in September of that year. In Two Crabs, it is probably the same crab, shown both on its back and upright. It is a Cancer pagurus, commonly known as the brown crab, a robust creature of a reddish-brown colour, having an oval carapace with a characteristic "pie crust" edge and black tips to the claws. Van Gogh wasn't a Cancerian – he was born 30 March, which makes him an Aries – but he does seem to have exhibited several key traits of that fourth sign of the Zodiac: moody, unpredictable, self-protective and "highly sensitive to the point of being overly emotional" (if there can be such a thing.) Additionally, Cancerians are all about home, and they love their home and family more than anything else in this world. It's not such a leap to imagine that Van Gogh found in 87 Hackford Road a comforting shell, a safe house that protected his vulnerable interior, as he tested his nerves out in the rough, frenetic city. He even invited his sister to join him in the same house, and she would end up sleeping in the bedroom next to his on the third floor. Many lines from the Cancerian horoscopes that I read (my birthday is 12 July) sound like advice for Vincent; take this one, by Rob Breszny in Free Will Astrology, 3 June 2021: "Don't be concerned about being disloyal to your pain by being joyous."'
– Allison Katz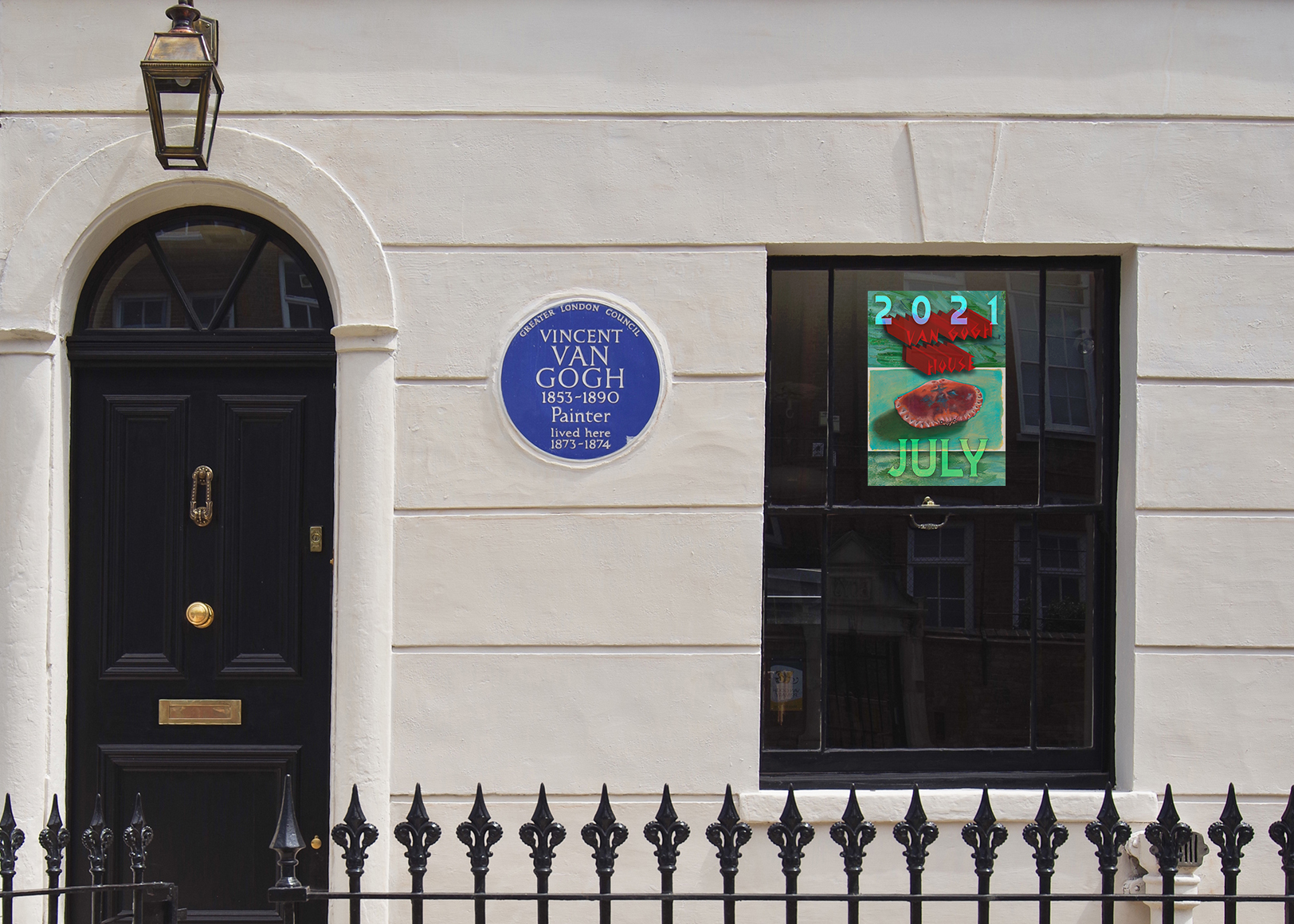 Van Gogh & Keats
A letter from Van Gogh's early days in London contained a transcription of a poem by John Keats called 'The Eve of St. Mark'. One of the verses contains the line 'on the western window panes' and continues to describe how the whole world seems to be reflected and contained in this piece of glass:
'And, on the western window panes,
The chilly sunset faintly told
Of unmatur'd green valleys cold,
Of the green thorny bloomless hedge,
Of rivers new with spring-tide sedge,
Of primroses by shelter'd rills,
And daisies on the aguish hills'
The verse captures Van Gogh House's approach to this project, seeing the building as a portal to an endlessly rich body of themes and conversations.
Further education materials around the influence of Keats on Van Gogh can be found in our Learning area, under Learning Activities
The Project
As with many other small arts organisations, the Van Gogh House was severely affected by the pandemic. By selling posters, Van Gogh House hopes to support the artists involved and use the income to fund future projects.
A new poster will be installed on the first of each month until March 2022, with 12 posters in total. We encourage everyone to place their posters in their windows, and to share  their thoughts and reflections with us.
Get Involved
What do you think about this poster? How would you have responded to Keats' poem? Would you show the poster in your window?
Take part in the conversation by:
filling out our virtual guestbook, click here
writing to our social media
or post us a letter:
87 Hackford Road,
London,
SW9 0RE
UNITED KINGDOM
Artists
Brighid Lowe, Madeleine Pledge, Lesley Sharpe, Allison Katz, Jordan & Frank Baseman, Ye Funa, Katrina Palmer, Aisha Farr & Will Harris, Rosa-Johan Uddoh, Gray Wielebinski, Tom Lovelace and Feifei Zhou.
Acknowledgements
With thanks to Benjamin Arthur Brown for curating the project, Klaudia Bebenek for her help in producing this project, Omnicolour for printing the posters, and to the artists involved.