Introducing our Community Engagement Guides
Harold Offeh's
We Came Here
September 2022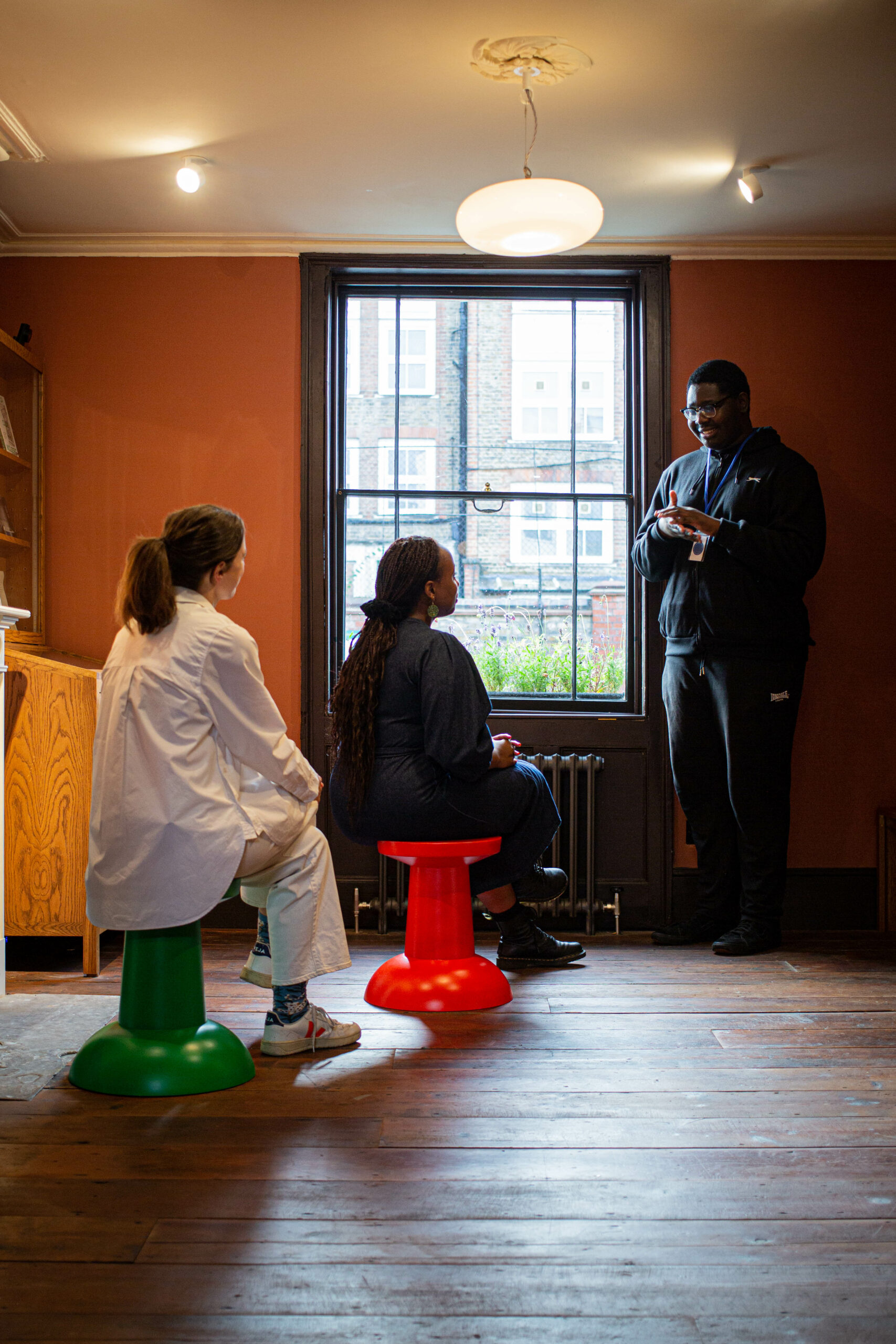 For our autumn exhibition, We Came Here, we are working with four incredible young people as our Community Engagement Guides. Our four guides are crucial in shaping our audience's experience of the exhibition.
About We Came Here
We Came Here, is a sound and sculptural installation. It is centred around a conversation across a century; between 20-year-old Vincent Van Gogh, who in 1873 had just arrived in Stockwell, and 20-year-old Olive Morris, the Jamaican-born, Brixton-based community leader. We Came Here builds on the stories and narratives of young migrants arriving in Lambeth, to build an idiosyncratic collection of accounts across generations.
Our guides – all of whom have a relationship with migration themselves – have been welcoming visitors to the house, giving tours of the exhibition and leading workshops to engage further with the themes of migration. Many thanks to the Art Fund for awarding us a Student Opportunities Grant that helps us support our guides.  
Before the exhibition's start, our guides took part in research workshops with Harold where they reflected upon their own personal experiences with migration, within the context of the archival research Harold gathered for the exhibition. These workshops helped shape Harold's final vision for the exhibition and also construct the narrative of the tours given by the guides. 
Here's a little introduction from each of them, to get to know them better!
Hi! I'm Nimrod, and I am originally from Amsterdam, the Netherlands, but moved to London around 10 years ago. I am currently a student at Queen Mary, reading Liberal Arts. Moving from a neighbourhood where I was a minority and being plunged into an area with an overwhelming majority of people who looked like me was a shock to the system. Learning Londoner slang, and the Black British aesthetic and diving into a new world of food is amazing. Being able to share my experiences of intersectionality with other people and learning more from others through the exhibition is fascinating. I look forward to the many other conversations I'll have with visitors coming to the House!
Jasmine-Karis
Hello! I'm Jasmine-Karis, a recent Textiles: Print graduate from London College of Fashion and born and raised South Londoner. I am of both Spanish and Jamaican heritage. Having migration stories tied to both lineages has fuelled an inherent interest in archival and creative storytelling, which extend into my own artistic and community-led practices. Since the passing of my Jamaican grandmother in 2020, I have found it deeply therapeutic to continue discovering the myriad of ways in which I can creatively honour and celebrate her journey from Jamaica to London, especially her relationship to the local Brixton area where she spent many of her years engaging with the community. Being a part of the Van Gogh House team has allowed me to continue finding ways to pass on her memories and encouraging others to share their personal histories as part of a continuous and valued local archive. I also host the community coffee mornings at the House, you can find more information on that here.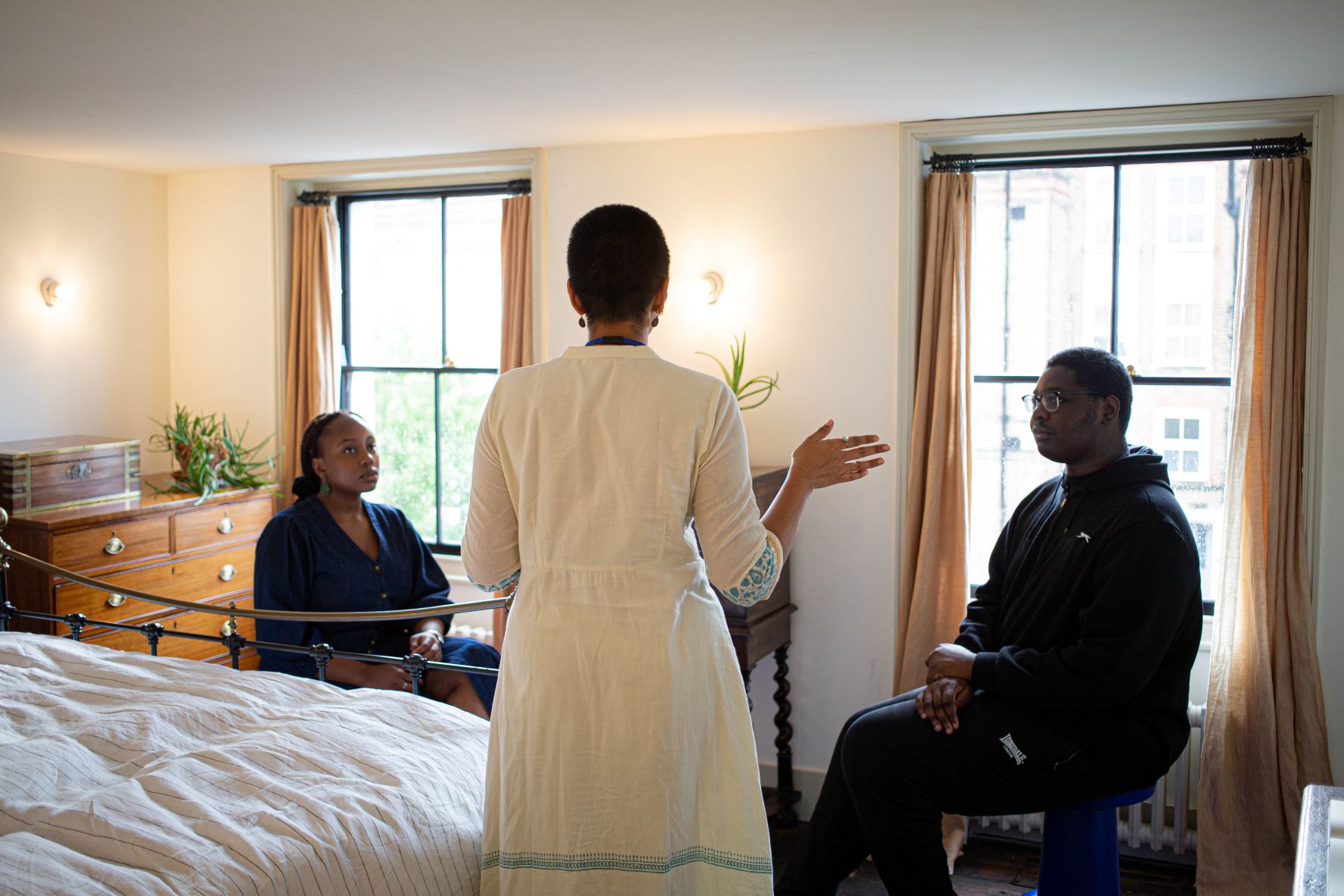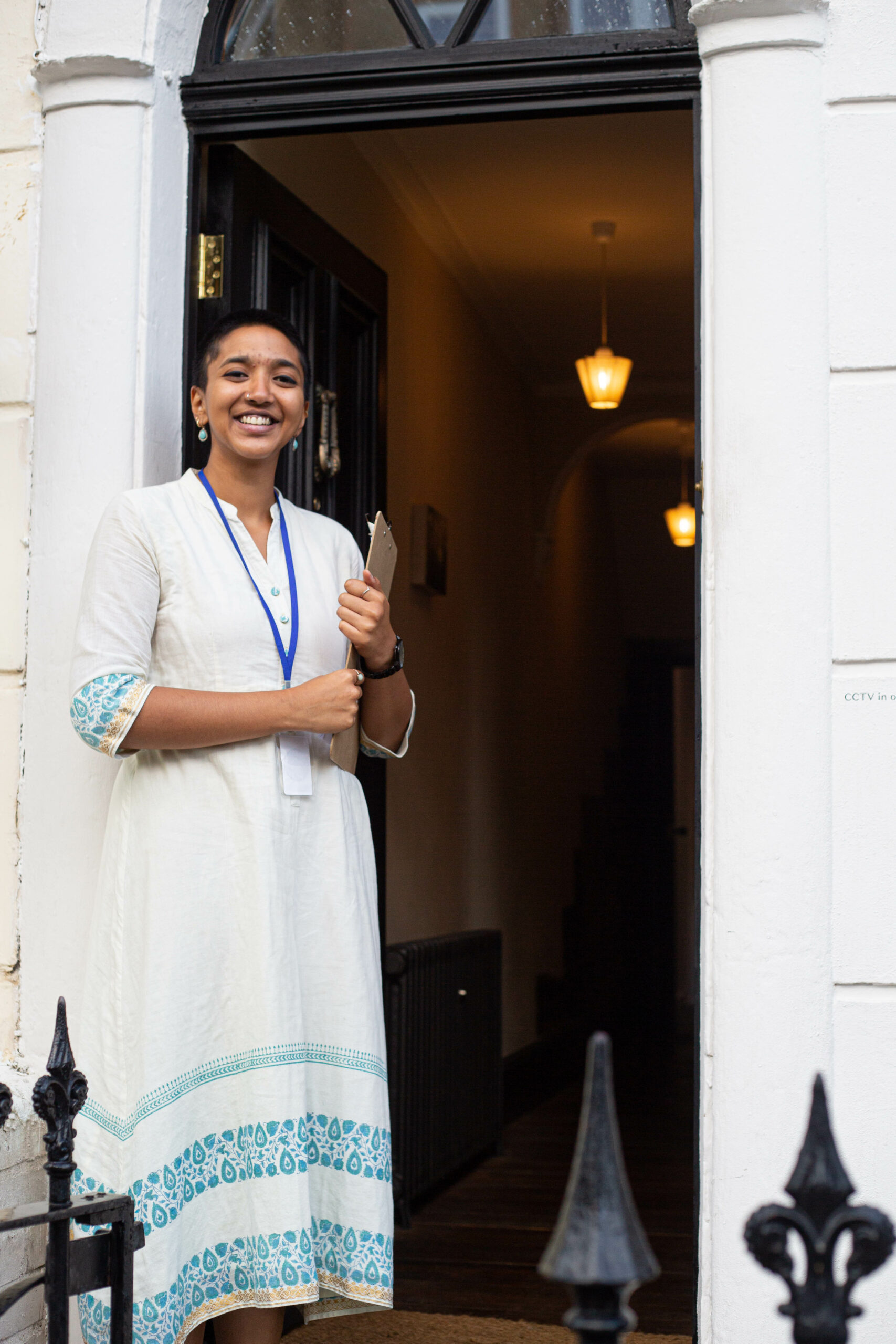 Charmiane
Hello! I'm Charmiane, and I'm from Zimbabwe. I was born there and moved to England when I was 9. Growing up in the north of England meant there weren't a lot of people who looked like me, and even in spaces where I wasn't the only black woman, I struggled to find people who shared my interests. Living and studying in London is like a dream come true. I am passionate about all things art, psychology, community and activism related, and I get to experience the intersection of my passions here. I have the opportunity to study something I love at UAL, and at work, I have the most amazing conversations with all the wonderful people that enter Van Gogh House!
Vaishnavi
And lastly, hello! I'm Vaishnavi. I am from Chennai, a coastal city in Southern India, and have been living in London since 2017. I first moved here for my undergraduate studies at UCL and have stayed on to do a masters in Science Communication at Imperial College London. Moving to London at a young age was an enlightening experience where I engaged with multiple cultures and perspectives constantly. As an immigrant in London, having conversations with my peers on identity, legacy and action have been common practice. Having the opportunity to continue having enriching conversations like those at the House, with the context of this exhibition is extremely rewarding and exciting!
Meet the Guides
Come and meet the guides by booking a ticket to We Came Here, running Wednesday to Sunday, 12 pm – 6 pm. We also run dedicated tours on the history of the House and the surrounding areas on the last weekend of every month, which can be booked here!
We look forward to welcoming you to the House!