The Living House
Exhibition text by Benjamin Arthur Brown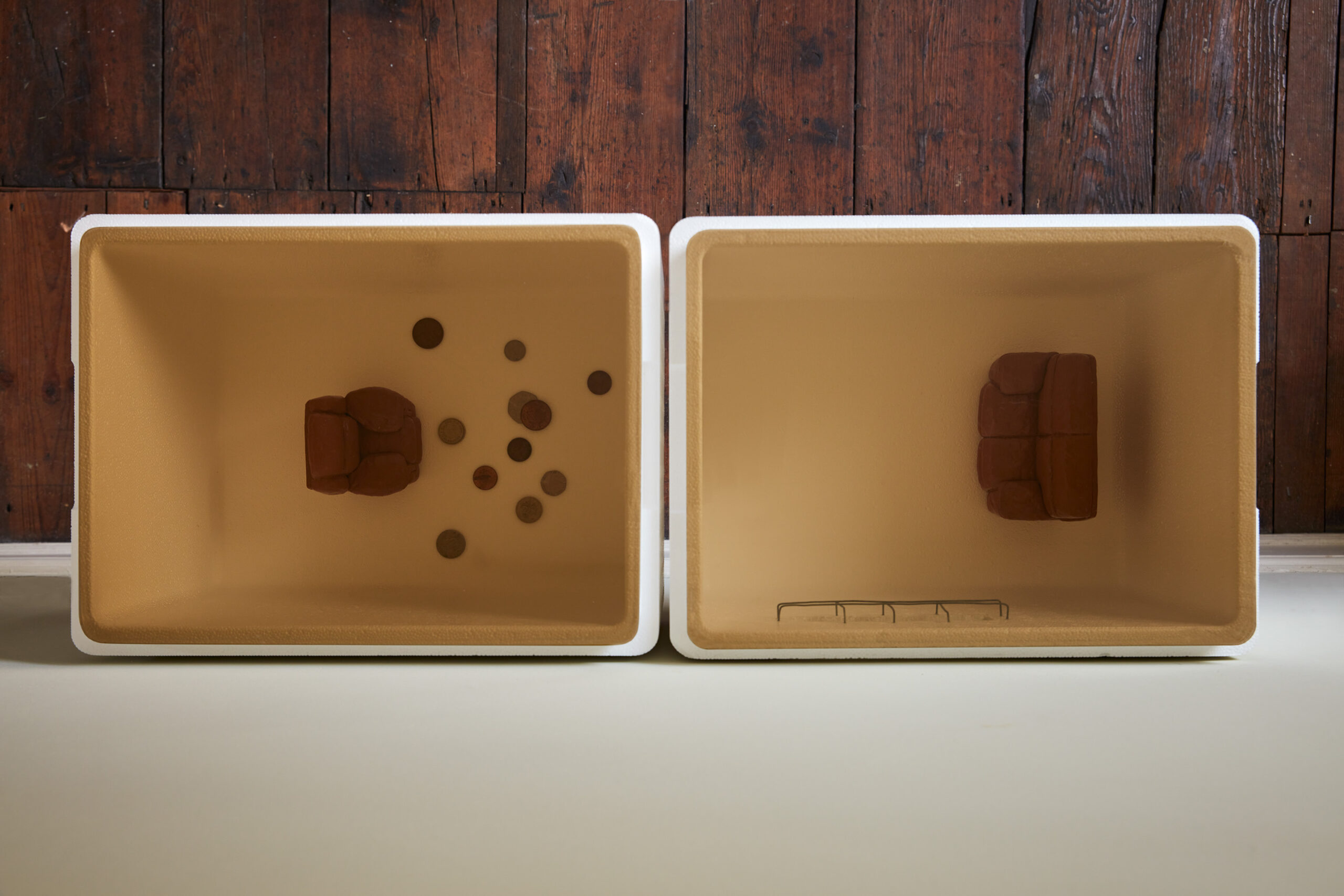 Introduction
'The Living House' is an exhibition and series of events, marking 150 years since Van Gogh came to live in 87 Hackford Road, 50 years since this was acknowledged by a blue plaque, and 200 years since the house was built.
The exhibition includes works by four artists: Do Ho Suh Eva Gold, Olivia Plender and Godai Sahara. Alongside these works the house also showcases its own archive of objects and ephemera, as well as a small collection of paintings by Paul Chalcroft (the postman who tracked Vincent to this address).
The works weave through the house, mingling, loitering and resting in rooms alongside other objects and commissions, reinforcing the themes of time and memory. Houses can form not only the backdrop, but also the physical records of our lives. These spaces contain both the personal and the universal. Some works are reframed or re-situated by their inclusion to hint at wider narratives, others made specifically acting as sometimes counterpoint or harmony to the house itself.
It seemed especially pertinent to consider the house as an active collaborator, not merely a mute framework. Its walls and floors are a substitute voice, even after near dereliction and restoration, telling their own, however flawed and fallible, accounts and biographies. The marks and breath of each resident, each visitor never truly being erased. Traces, ghosting across the surfaces, webbing together to form the tapestry of 'The Living House'.
Do Ho Suh
Toilet Bowl-01, Apartment A, 348 West 22nd Street, New York, NY 10011, USA, 2016
Cyanotype on Saunders 638g paper
Do Ho Suh is a Korean artist who works in sculpture, installation, and drawing. Suh is well known for re-creating his previous working and living spaces, using fabric in what the artist describes as an 'act of memorialization'.
Do Ho Suh's work here is a cyanotype of a toilet. It is created by exposing one of his translucent fabric pieces through this photographic process. The result is a beautiful, ghostly apparition. It is as if the toilet is exploded or flattened, somehow defying time and space. The image exists as both a trace of the process and an abstraction, calling back to early pioneers of photography. Its inner workings exposed, the toilet takes on a pathos – this is a personal, intimate and vulnerable space.
Toilets have a significance to the house. The building originally had a privy in the garden, parts of which have been translated into the downstairs W.C. When excavated, the area around the privy was littered with several clay pipes, conjuring the image of how the space may have been used as a place to think and briefly meditate and reflect. This is underpinned in Suh's image, as if from memory, a toilet from an apartment where he once lived in New York.
This work never seems to rest or resolve, it makes us think about the in-between spaces that fill a house – piping, wires, timber structures and voids behind plaster, invisible or obscured but by no means mute.
Eva Gold
Scenes from a dream (the night before last), 2023
Thermo insulated polystyrene boxes, perspex, modelling clay, coins, aluminium wire
Face up, 2023
Colour pencil on paper
Working across sculpture, video, and installation Eva Gold creates artefacts of unreal situations. Absence and traces are used as gestures in Gold's work, suggestions, or imperatives that whole worlds can be built from.
A pair of wall-based sculptures, 'Scenes from a dream (The night before last)', and a pencil drawing, 'Face up', are Gold's contribution to 'The Living House'.
At first glance 'Scenes from a dream (the night before last)' seems simply to be a pair of butler sinks – desirable items for the modern home. On closer inspection they are revealed as polystyrene containers, like those used in food markets or for transporting fish. Yet again, these containers morph, this time into miniature, cell-like rooms each containing hand carved models of lazy boy recliners. These suggestions of bodies or characters looking towards each other have something of a voyeuristic relation between them – an active and a passive body perhaps, although the distinction is ambiguous.
'Face Up' is a colour pencil reproduction of a still from the film The Humans (Steven Karam, 2021). It is a close-up of a circular fluorescent light, attached to the ceiling of an apartment in New York. There is a banality to the image, but something incongruous about its situation in this late Georgian house, something ominous and even odorous. The work's location points to the importance of every space: a house as a whole, not a collection of adjoining rooms; the little details that catch the corner of your eye. With its placement near the attic door, there is also a nod to these spaces being frequently associated with fear and the unknown.
Both the sculpture and the drawing are placed on the divider between two private spaces. Yet it is permeable: the sounds of the neighbours seep through. From this side of the wall, the specifics of their life and experience can only be imagined. There is a porous nature to buildings, in a literal and poetic sense. Echoes of voices of past and present, the layers of dust and shadows that collect and coat every surface.
Olivia Plender
Celia and Olivia Plender Raising the Fox Sisters, 2018
Two framed giclee prints
To Our Friends, 2015
Hand-sewn fabric quilt
Olivia Plender is an artist known for her installations, performances, videos and comics, often stemming from historical research.
Two of Plender's works are shown in 'The Living House', a pair of photographs and a handmade quilt. These are not so much re-contextualised but inserted, creating a dialogue with the house and its history, highlighting and focusing on moments and shared politics that have potentially been side-lined.
The photographs depict Plender and her sister Celia recreating a studio photograph of Kate and Maggie Fox – famous nineteenth-century mediums, who founded the Modern Spiritualist Movement. 'A homage to sisterhood' as Plender puts it, the photographs speak of these strong, female led networks: important organisations for many reasons but also for their participation in the liberation movement, and for women's suffrage. The importance of women cannot be understated in both the story of Van Gogh – his legacy really owing to Jo van Gogh Bonger (his sister-in-law) – and the story of the house itself – from the Loyers through to Mrs Smith to Alice Childs and Livia Wang.
A quilt lays adorning the bed in the room where Van Gogh once slept. This hand-sewn object follows a striking geometric, black-and-white pattern. The nineteenth-century design demonstrates the modernity of this craft practised by women, who used abstraction long before it was 'discovered' by male modernist painters. The pattern is called The Tree of Paradise, or sometimes The Tree of Knowledge – from which Eve took the apple, before being punished by a patriarchal god for trying to educate herself. Here seems to lie a demonstration of the times in which Van Gogh lived – the tussle between science and religion during the Victorian era and the rise and growing voice of the disenfranchised. Hidden in the quilt is a secret panel which quotes from 'Urania' – a journal that catalogued feminist struggles and questioned gender identity. It hints at hidden but overlapping worlds.
Godai Sahara
A Gift from Someone Who Wishes to Cry but Hardly Ever Does, 2018 – 2023
Soap (100% vegetable source)
The Healthier the People, the Poorer and Happier the Doctors, 2023
Bronze
Godai Sahara's work spans a diverse set of media. At the centre of his practice there is always humour and both an internal poetry and logic.
For 'The Living House', Sahara has created two sets of small sculptures: soaps cast in numerous forms and with a range of ingredients and a pair of bronze boules. There is a tactile, sensual nature to the works. Visitors are invited to use the soap and handle the boules. They act as both sculpture and objects of use.
The soaps speak of the combination of the natural and the scientific, the body, cleanliness and the everyday habits and rituals of life. This is not just present in their material but importantly in their form and rendering process. The soaps are cast to resemble a range of seemingly disparate things: fish swim bladders, cigarette filters, soap berries, smartphone cameras, stethoscope earplugs. This combination of the strange and banal; the personal and the universal all circle around ideas of filtering: contact with person or place but also the mediation that occurs. Sahara's works often takes influence or even ingredients from the things around him and he sees places like a garden and a kitchen as an extension or even replacement for a studio as if he is living as art or is practising the art of living.
The bronzes are partly inspired by 'Pétanque' boules. They lie on the bed in the room where Van Gogh's sister Anna once stayed, surrounded by engravings by Gustave Doré. Their surface is smooth, as if they were drops of liquid metal. The pieces also refer to massage balls, sitting quite comfortably in the hand. The work started with observations of freshly made rice cakes or perfectly ripe tomatoes, leading to a process of making that resembled something akin to the usage of soaps – continuous rubbing, smoothing of the shape and surface until they reach a 'thankful object'. Again, there is a subtle combination of worlds; one might use a ball to relieve tension in the body in a similar way to how people might rub Buddha statues wishing for their health, or roll them in one hand like with Chinese medicine balls.
Both works will age at their own pace, or the pace chosen by visitors. They will carry the traces of these days, shared moments forever ingrained and wiped clean.