DUTCH ARTIST DUO
Residency Awarded to
Veerle Melis & Liza Prins
June 2022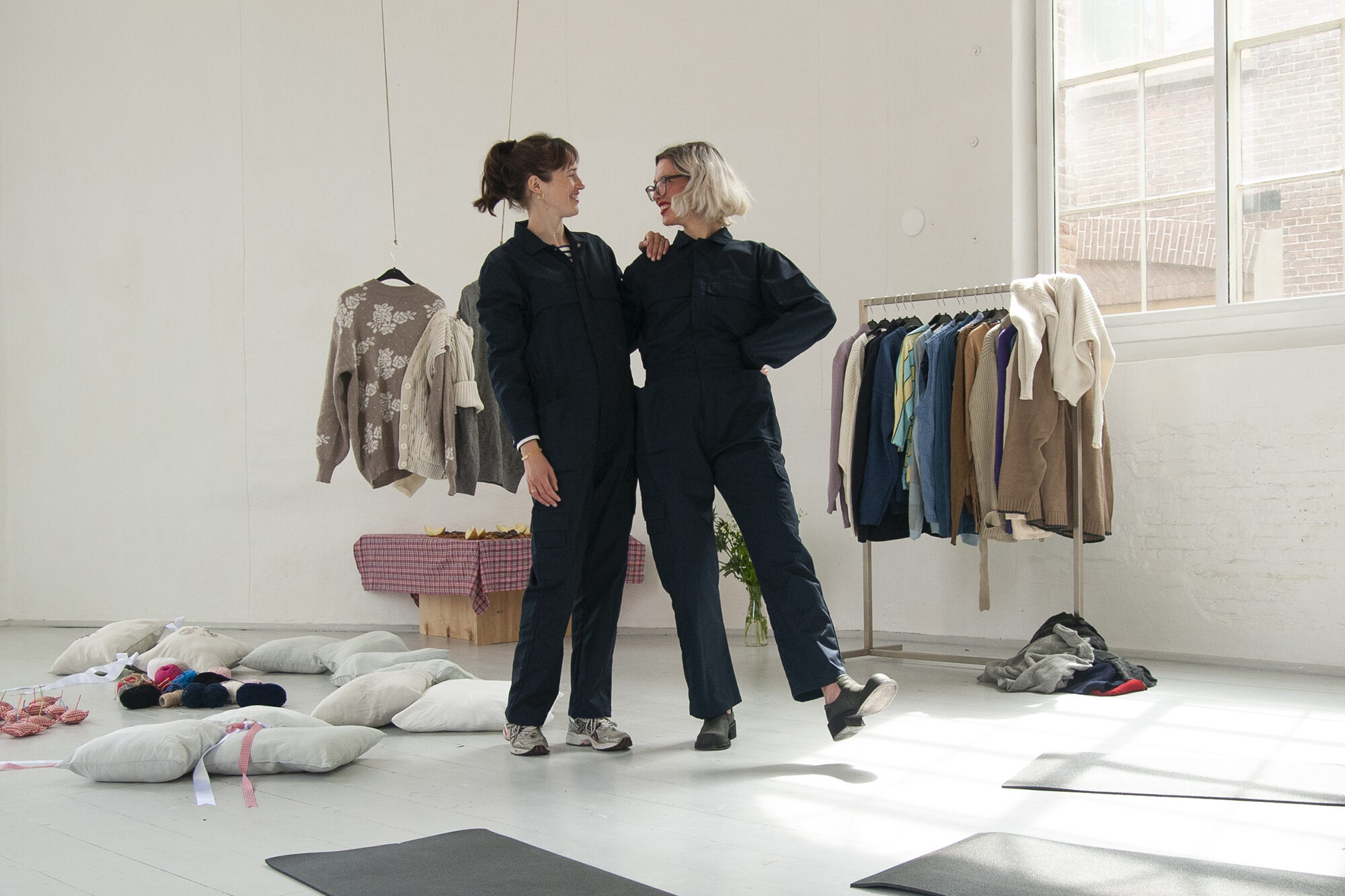 Van Gogh House announces that the Dutch Artist Duo residency has been awarded to Veerle Melis and Liza Prins. The artists will live in the house for a month in June 2022.
Exercises for Sabotage
Through their proposal 'Exercises for Sabotage', the artists will explore contemporary issues around labour and production. Finding precedent in the Luddites, 19th Century textile workers who destroyed machinery and sabotaged production processes, Veerle and Liza will consider ways we might disrupt contemporary modes of 'hyper-productivity'.
Alongside archive visits and reading groups, a key research method will be the disassembling and knitting together of multi-person jumpers as embodiments of a better connected (and potentially less productive) society. Members of the public will be able to participate in these reading groups, workshops and open studios hosted in the domestic spaces of the Van Gogh House.
Through this project, Veerle and Liza will be reinforcing the lesser-known stories of the women who lived alongside Vincent van Gogh in the 1870s; his landlady Mrs. Loyer as well as the seamstresses and dressmakers who also rented rooms here.
This residency is supported by the Dutch Embassy in the UK and is an opportunity for two artists to live and work at the Van Gogh House in June 2022. This is in line with Van Gogh House's mission, to support artists to make a living within their lifetimes. Artists are encouraged to respond to the wide-ranging themes that intersect the house, from Vincent's time in London, to questions around identity, heritage, materiality and urbanism.
Veerle and Liza were chosen through an open call process, judged by Ron Dirven, Directeur- conservator at Vincent van Gogh Huis Zundert, Saskia Olde Wolbers, Artist and Livia Wang, Creative Director of Van Gogh House.
For enquiries, please write to Eleanor at press@vangoghhouse.co.uk
Residency Event
Saturday 18th June
2 – 4pm
A collaborative reading event at the Van Gogh House referring to key texts surrounding the Luddites, considering ways we might disrupt contemporary modes of 'hyper-productivity'.
Free, includes refreshments.
Acknowledgements
This residency is supported by the Dutch Embassy in the UK and the Mondriaan Fund