DUTCH ARTIST DUO
Residency Open Call 2022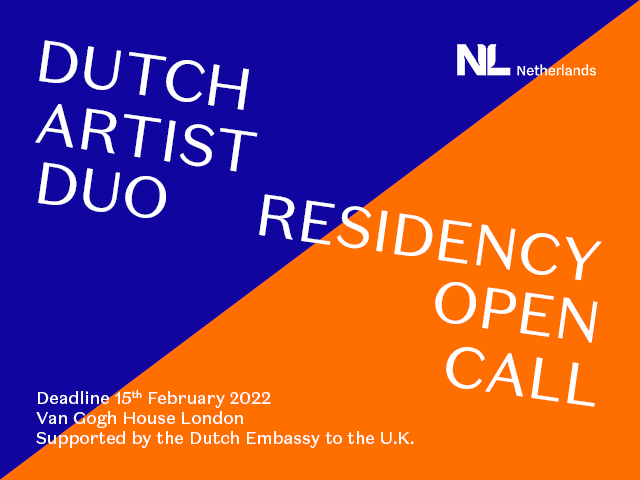 We are delighted to announce a residency in early summer 2022, for a Dutch artist duo to stay at the Van Gogh House in London for one month.
This opportunity has been supported by the Dutch Embassy in the United Kingdom, and draws a connection between our site in London and Vincent van Gogh's homeland.
Applications will be judged by a panel made up of Ron Dirven, Directeur-conservator at Vincent van Gogh Huis Zundert, Saskia Olde Wolbers, Artist and Livia Wang, Creative Director of Van Gogh House London.
Key Dates
Submissions open:

17th January 2022

Deadline for questions to be published: 31st January 2022
Deadline:

15th February 2022 (midnight, CET)

Interviews for shortlist: 22nd February
Results:

Successful applicants will be contacted by 23rd February 2022, public announcement will be on the 28th February

Residency:

Residency will take place 30th May – 24th June 2022
Eligibility criteria
For this residency we are looking for two visual artists who currently work as a duo, or who propose to work together for this project. Successful applicants will be able to provide evidence of past collaborative projects made as an artist duo, or have a clear plan and motivation for working together on this residency.
Both artists need to have Dutch citizenship and be active and embedded in the professional visual arts in the Netherlands.

Neither artist should be currently enrolled in any educational institution or programme of study.

Dutch artists based in the United Kingdom are not eligible.

Both artists must be over the age of 21.

At least one of the artists will need to be eligible to apply for the Mondriaan Fund: '

Artist Project Grant

'⟶
Is this residency for me?
This residency will be a great opportunity for artists who have not spent much time in the UK. You might be looking for some quiet time to develop work with your collaborator, or perhaps you would both like to broaden your professional network in London? Are there particular institutions in London you have always wanted to visit? Do you have an interest in working in historic houses, or with the myth of a particular person?
The nature of the Van Gogh House means that we are looking for artists with an interest in research, collections and responding to context. Perhaps your research touches around themes that seem relevant to the house, ranging from materiality, layered histories, identity, migration, mental health and domestic space. 
It is also important to think about how you will be sharing living and working space with your collaborator. How this will work over the month? Reading through this information carefully, visiting our website and thinking about how your practice would benefit from time spent here will be the best way to find out if this residency is for you. 
Van Gogh House welcomes applications from those currently underrepresented in the arts. Applicants may want to be aware of some of the physical access issues presented by the fact that this is a historic building. There are details on our website, but let us know if you have further questions. 
What you can expect from us in terms of facilities and support⟶ 
Outcomes
The duo will be expected to use the residency for research and development (but not necessarily the production) of a new work. As the residency is only for one month, it is not expected that the new work will be finalised, but that the process will greatly benefit the making of new work afterwards. However, tangible outcomes are important, and these include: 
Participation and collaboration with our team.

One workshop with one of Van Gogh House's community partners.

A public event or open studio.

A record of the residency and these events will be published in September 2022.

Works/exhibitions/presentations that are a result of the residency will state the support of the Dutch Embassy in the United Kingdom and the Van Gogh House.
Finances
The residency provides free living accommodation and studio space in London for 1 month (30 May – 24 June 2022). We will do our utmost to support the artists whilst in London, with curatorial, technical and event based support:
Read more about what you can expect from us ⟶ 
We will work closely with the successful artist duo to make an application to the Mondriaan Fund's 'Artist Project' grant for travel costs and a stipend:
Read about the Mondriaan Fund Artist Project Grant⟶ 
The turnaround times for the Mondriaan fund grant application will be fast, therefore we advise all applicants (both of you in the duo) to this residency to set up an account with the Mondriaan Fund at the same time as making their application to the residency:
Application Process
It is free to apply.

Each artist duo must submit one application together. This should be formatted as a single document consisting of a portfolio, CVs and project statement in

PDF form. 

All applications must be submitted via our Google Form.

You must also complete an Equal Opportunities Form alongside your application. The information you provide here is anonymous and will not be considered alongside your application. 

A shortlist of 4 duos will be decided by an expert panel made up of Ron Dirven, Directeur-conservator at Vincent van Gogh Huis Zundert, Saskia Olde Wolbers, Artist and Livia Wang, Creative Director of Van Gogh House London. 

A second stage of interviews for these 4 duos will take place, where the successful artists will then be chosen by

23rd February 2022

and announced that week.

Please note that interviews will take place in English.
Application Checklist
Project Statement (500 words/1 A4 page attached to portfolio document):
Describe what your work is about and your working practices as a duo.

Talk about why your work is a good fit for this residency and how time together at the Van Gogh House would support and aid the development of your work. 

Describe how you imagine the public facing aspects of the residency might take place: the open studios, public event and the community workshops might work with your residency. Do you have any experience of how your work has found or interacted with an audience?  Include any experience of facilitating public workshops or working with community groups. That could be in the form of an exhibition, website, blog, open studio or workshop.
Portfolio (20 images + project statement):
Create a PDF document with up to 20 images (max. 10 MB) of your most important works from the past 1 to 4 years. Include links to websites, films or other media.

You should include a supporting portfolio of work with an emphasis on projects/works made together. 

These can be works you've made together in the past, images of work in progress.

You may wish to include supplementary drawings, preparatory sketches, background research.

It is helpful for us to understand a bit about the research or process that goes into a work and not just see the final piece.
CVs:
You should include the CVs of both artists in the duo. This can be a joint CV for both artists, or separate.
Mondriaan Fund account:
Frequently Asked Questions
Can I submit a solo application?

No, the applicaion needs to have two artists named on it

. 
Do we need to have worked as a duo before?
No. If you have not worked as a duo before, then we would like to understand why you want to work together and have a clear proposal for your residency together. You can submit work made individually in your shared portfolio.
Do both artists need to be eligible for the Mondriaan Fund Artist Project Grant?
No, only one artist needs to be eligible, though if both are eligble then more funds can be applied for
Can I apply if I live in the UK?

Dutch artists based in the United Kingdom are

not

eligible.
What will I get in terms of support from Van Gogh House?
When will the finalists be selected and will I be notified?

Successful applicants will be contacted via email on the 23rd February 2022. 
Will you be able to give feedback if my application is unsuccessful?

Unfortunately, we won't be able to get back to applicants with feedback.
These FAQs were updated on 01/02/2021
Contact
Please refer to the FAQ section. For any questions throughout the process please contact Mimi Lanfranchi at mimi@vangoghhouse.co.uk